What is the process for Multiple Dental Implants?
Below is an illustrated example of the procedure for multiple dental implants.

A partial prosthesis (fixed bridge) can replace two or more teeth and may require only two or three implants. In this example, 3 teeth in the back area of the mouth are missing. The only replacement alternative is placing a partial plate. Implants will avoid a plate that needs to be removed daily. Treatment plans will be developed. If there is bone loss, grafting may be performed prior to implant placement.

Next, the dental implants are carefully placed and secured, and allowed to heal for approximately 3 to 6 months.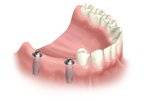 The multiple dental implants need to fuse with the jawbone before the permanent bridge can be attached. Another mold of your teeth will be made, followed by the placement of the permanent bridge.

The new bridge will handle perform as the original back row teeth did. The new implant crowns will be stable and secure enough so the patient can chew and eat whatever they desire.